CABA. Strike and teacher mobilization in solidarity with the struggle in Jujuy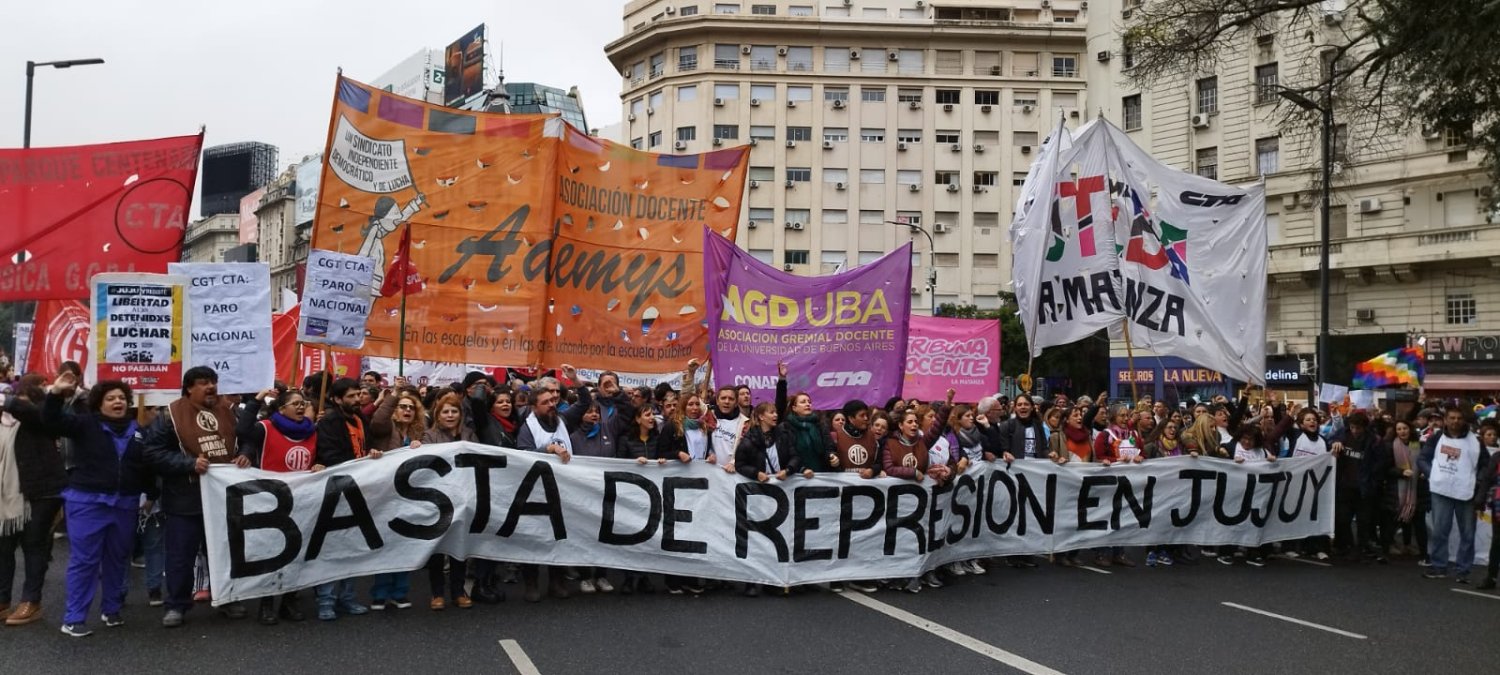 While in Jujuy the mobilizations and roadblocks against the constitutional reform and low wages continue, in the City of Buenos Aires actions continue to be developed in solidarity with the struggle that the Jujuy workers are carrying out. In the case of the teachers' union, this morning the 48-hour strike began promoted by the Buenos Aires union Ademys, which later had the adhesion of UTE, joining the call to mobilize at noon from the Obelisk to the House of Jujuy. They demand the release of all the detainees, among them several teachers, an increase in salaries and the repeal of the anti-democratic constitutional reform of Gerardo Morales.
NOW | Live from the Obelisk, concentration towards the House of Jujuy by unions and social organizations, including CTA, SUTEBA La Matanza, ADEMYS, in repudiation of the repression of Gerardo Morales pic.twitter.com/Rgdc67B8tF

– The Daily Left (@izquierdadiario) June 21, 2023
A large column of teachers and students are currently in downtown Buenos Aires participating in the measure. In addition, the call also added the adhesion of families from the City schools, who are also present in the place.
The Ademys union has disseminated a letter written by teachers and teachers, addressed to the families of the schools, in which they detail the reasons for the teacher strike and invite them to accompany the measure of force. "Jujuy is one of the poorest provinces in Argentina, the conflict began with the teachers demanding decent wages and this very heartfelt claim quickly had the support of various sectors of workers and native peoples. The claim was joined by rejection of the reform of the constitution of Jujuy that Governor Gerardo Morales wanted to carry out, with changes such as the encroachment on the rights of native peoples, on their lands and prohibiting the right to protest", points to a fragment of the letter. Currently the salary of teachers from Jujuy is the lowest in the country, with a basic salary that barely exceeds $30,000.
At this moment, a teaching delegation of teachers from different parts of the country is in the province of Jujuy, among them the Buenos Aires professor Mariel Chavez Del Pino, who denounces the brutality of the repression that they are suffering in the province.
Other unions continue to arrive to the mobilization, such as state and banking, who together with the Buenos Aires teachers go to the House of Jujuy.
News in development
Source: www.laizquierdadiario.com