Buenos Aires province. Massive strike of Buenos Aires teachers despite the pressures of Kicillof and the boycott of Baradel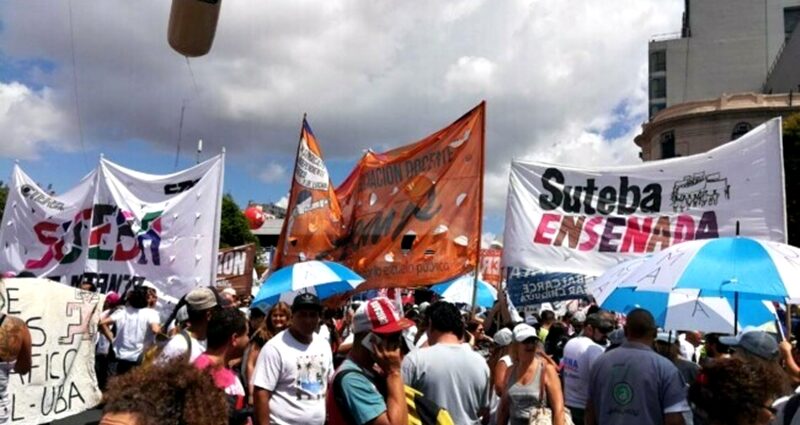 Despite the pressure and intimidation of the government of Axel Kicillof and the boycott of the leadership of Suteba Province, thousands of workers and education workers strike against the adjustment in the Province of Buenos Aires.
On Monday afternoon, through a false statement from the Human Resources Department, the Kicillof government sought to prevent the massive adhesion. In it, it was "informed" that the strike had not been notified to the Ministry of Labor, and threatened that "absences arising as a consequence of such actions will be considered unjustified."
In a public statement, the Provincial Multicolor ratified the measure of force and called on teachers to mobilize: "The Kicillof government not only lies to the educational community trying to hide the government's responsibility in the state of public education due to the lack of infrastructure conditions and the unfolding of sections, but also has the objective of intimidating the teaching that is massively abiding by the measure to fight for wage claims in the face of inflation that pulverizes our purchasing power. And it does so through an official who comes from the administration of María Eugenia Vidal (Emilio Cazzou). It is a lie that there is no notification to the Ministry of Labor Today we made a presentation to the Ministry of Labor of the Province of Buenos Aires in La Plata, and it was also made via email to the regional Delegations of the Province of Buenos Aires informing of the call to UNEMPLOYMENT. Unemployment is a constitutional right of workers established in article 14 bis and protected by Law No. 20,744 on Labor Contracts and Law No. 23,551 on Trade Union Associations."
The adjustment in education is clearly seen in schools that are falling apart, without minimum inputs as we saw during the heat wave, increasingly devalued salaries, teachers who must work double and triple charges to make ends meet or have other jobs, and thousands of children and adolescents who lack everything.
All our support for the teacher strike in the province of Buenos Aires. Despite the boycott of the leadership of SUTEBA and the tightening, the anger against the adjustment of Kicillof is felt in the schools. Public education fights back!

— Nicolas del Caño (@NicolasdelCano) April 25, 2023
On Monday, May 1, the combative teaching together with food, subway, state, health, railway, aeronautical, metallurgical workers and dozens of unions, precarious youth and students will meet in the Plaza de Mayo at 3:00 p.m. in an act called by the Left Front and the Workers Unit
All our support to the teachers of the Province of Buenos Aires who, despite the pressure and threats, today say NO to the Kicillof adjustment.
Money for education, not for the IMF!

— Myriam Bregman (@myriambregman) April 25, 2023
Although @Kicillofok y @SUTEBAProvince Yesterday they dedicated themselves to boycott: THE 48-HOUR TEACHER STOP BEGAN throughout the province. Teaching does not lower its head before the adjustment and salary loss. We need a national fight plan. Money for education NOT for the IMF ‼️

— Naty Hernandez (@Hernand_nati) April 25, 2023
Highest respect for #paro teacher driven by #Multicolor. Despite the pressures of the government of #Kicillof and the boycott of the sky blue #Baradel; We teachers stand against the adjustment! pic.twitter.com/sscF3MfIoA

— Mariadiazreck (@Mariadiazreck) April 25, 2023
Source: www.laizquierdadiario.com