Amorim talks about his dialogue with Zelenski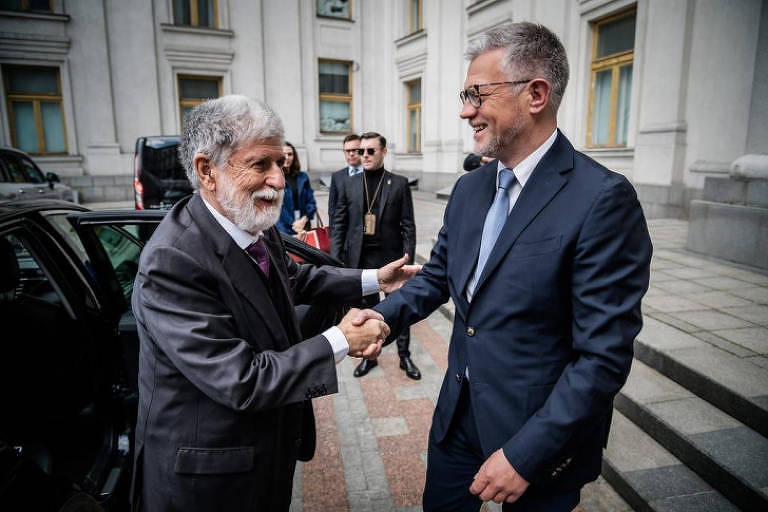 The special adviser on international relations to the Presidency, Celso Amorim, met this Wednesday (10th) with the President of Ukraine, Volodymyr Zelensky, members of his cabinet and with the Deputy Minister of Foreign Affairs, Andrij Melnyk.
To Folha de S.Paulo, the ex-chancellor said that the visit was "very peaceful". "The dialogue was positive, confidence-building, and aimed at explaining our goals for peace," he said.
Amorim, who did not give many details about the meeting, said that the government would soon share more information about the meeting in Kiev.
The purpose of the trip to Ukraine was for the adviser to hear from Zelensky "what are the main requirements of the Ukrainian government to start peace negotiations", according to the Planalto Palace. At the same time, the meeting aimed to reinforce "the intention of the Brazilian government to facilitate processes that establish negotiations for peace in the region" shaken by the conflict with Russia.
In a publication on social networks, Melnyk, who is also the Ukrainian representative for the Americas, stressed that "Brazil can play an important role in ending Russian aggression and achieving a lasting and just peace".
The vice-chancellor also mentioned his interest in reinvigorating a strategic partnership sealed in 2009. At the end of the publication, he thanked in Portuguese.
Happy to meet Chief Advisor of Brazilian President Lula da Silva @LulaOficial H.E. Minister Amb. Celso Amorim. Brazil can play an important role to stop Russian aggression & reach a lasting & just peace. We also strive to reinvigorate a 🇺🇦🇧🇷2009 Strategic Partnership. Obrigado🙏🏻 pic.twitter.com/VqTECq0jZQ

— Andrij Melnyk (@MelnykAndrij) May 10, 2023
In a note, the Ministry of Foreign Affairs of Ukraine stated that it evaluated positively the intentions of President Luiz Inácio Lula da Silva (PT) to facilitate peace in Ukraine.
"We invite Brazil to actively engage in the implementation of President Zelenski's formula for peace", says an excerpt from the text, which also thanks Brazilian diplomacy for condemning, in international forums, the Russian invasion.
Join our WhatsApp group, clicking on this link
Join our Telegram channel, click this link
Source: https://www.diariodocentrodomundo.com.br/criacao-de-confianca-amorim-conta-como-foi-seu-dialogo-com-zelenski/