36th Plurinational Meeting. Voices from the debate in the workshops of the 36th Meeting of women and sexual diversity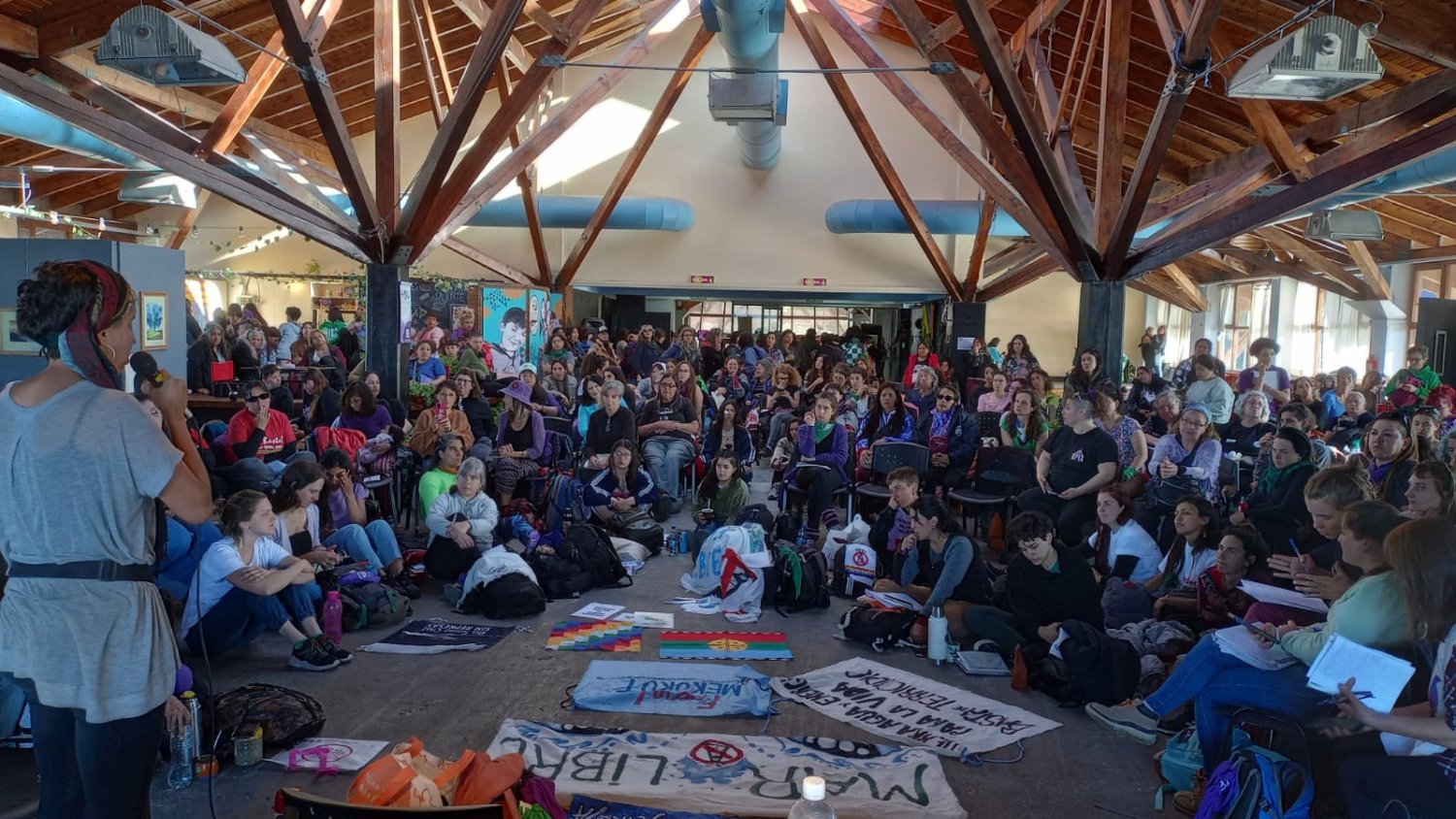 At 1 p.m. the debate began in the workshops. There are 112 different themes gathered in 12 different axes. However, as every year some topics are the most chosen, they are transformed into assemblies and concentrate the main debates. These are environment and extractivism, health, mental health, education, abortion, Comprehensive Sexual Education, transvestite activism, union activism, workers' efforts, women and work.
As in the opening, the economic and social crisis and the national political situation crossed the debates. The groups related to the ruling party stated that since "right-wing rights regress," voting for Sergio Massa is the way to go. The companions of Pan y Rosas debated how to defend these rights. "No government gave anything to women and sexual diversity. We won everything in the streets and it is in the streets, facing the adjustment of the Government and the IMF from today, that we are going to defend our rights and stop the right.
Voices from the workshops
Irene Gamboa, Pan y Rosas Rosario: "To confront extractivism we have to unite all the struggles"
/div>
Today this debate is more necessary than ever. Those of us who are here in defense of our common goods, against extractivism, have to think about what is coming with the change of government.
The IMF is coming to destroy our soils, our rivers, our water, our food, our lands. A colleague said that there is no list that is not extractivist. But I am proud to be part of the only list that is not with extractivism, headed by Myriam Bregman and Nicolás del Caño.
We do not want this assembly to decide on any candidate. But we do have to decide whether we have the will to go out and fight.
I can't get enough of Villarruel who comes to say that the genocidaires have to be on the streets. I am the daughter of former political prisoners. I know very well which side to be on. We have the strength of Mothers and Grandmothers putting the genocidaires to task.
But we also have to be very aware that Sergio Massa's vice candidate, Rossi, spent a lot of time arguing with Villarruel that he was going to give more money to the Army. Why do they want to give more money to the army? To move forward and make us bow our heads. And on this side there are Mapuches, there are women who stood in Jujuy in defense of water.
We can't continue fighting separately. We have to unify the struggles. Otherwise we're screwed. And for that, unions have to be at the forefront. And end the truce that they have maintained for more than 10 years, which has not even carried out a general strike.
Julieta Katcoff, Salud Neuquén: "Without a budget there is no right to public health"
We come from the province of Vaca Muerta, from the most complex hospital in Patagonia and we work and provide care in absolutely deplorable conditions. I work in the pediatrics area and a nike to access a speech pathologist appointment has a three-year waiting list. How much is the life of that boy or girl worth waiting to have quality care?
Access to public health is no longer a right for everyone. The ruling party talks about defending the right to health. What right to health do we talk about to people who have to wait in lines for hours to be able to access a shift or to be able to access medication they need?
That is why we have to defend public health by demanding a larger budget and also denounce the adjustment that all governments are applying at the national and provincial level.
Emergency Plan against violence against Women Now!
Neuquén is second in the national ranking of femicides in the country. Seven femicides in the first eight months of this year. And it is also a public health issue. There is not a single specialized team in the province's hospitals and health centers.
Pan y Rosas, together with health workers, Social Development workers and the Left Front benches in the Legislature, presented an Emergency bill against violence against women. So that the necessary budget is allocated to guarantee prevention and care through financial aid, housing, specialized interdisciplinary teams in each hospital and health center.
Natalia Aguilera, nurse at San Martin hospital: Women are the majority in the health sector
@nataliaaguilera608 36 Plurinational meeting of women and dissidents. Workers and workers! #myriambregman #nicomplicesnisometidos #encuentronacional #noaltrabajo #noalpagodelfmi #unidaddelestrabajadores #frentedeizquierda ♬ original sound – Nat
In defense of workers' efforts
The workers without employers from the Neuquén and Zanon ceramics participated in the worker management workshop where they told their experience and the serious situation they are going through. "Today the economic crisis hits workers' administrations as well as all working families. Inflation, dollar prices of inputs and raw materials. The high tariffs make electricity and gas bills unaffordable without any type of differentiated tariff appropriate for all cooperatives and workers' administrations as they did with businessmen." They promoted a petition to demand from governments "access to credits that allow technological renewal, with a State guarantee and differentiated rates for cooperatives and workers' organizations."
For the effective implementation of Comprehensive Sexual Education

The debate in the workshops continues on Sunday from 9 a.m. to 1 p.m. and then in the afternoon from 3 p.m. to 6 p.m.
Source: www.laizquierdadiario.com